MBA Info (Health and Safety) file for:
WARNSCALE HEAD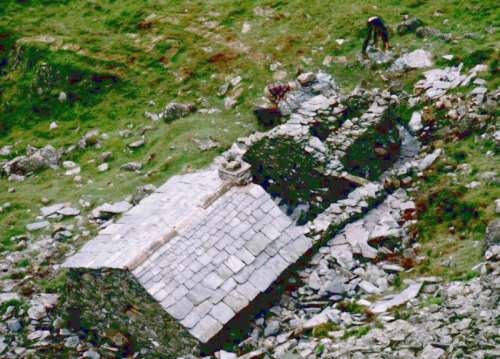 Location: SE of Buttermere, Cumbria.
Grid ref. NY 205 133
Owner and local contact: William Richardson, Gatesgarth Farm, Buttermere, Cockermouth, CA13 9XA.
General description of building: Single room mine cottage with dry-stone walls and slate roof.
Access: About 2 km by path from public road at Gatesgarth (ascent about 300m) or from Honister Pass (ascent 150m, descent 100m). .
Vehicle access in case of emergency is possible by land rover tracks to NY 200 138 (low level) from Gatesgarth, or NY 211 136 (high level) from Honister Pass.
Restrictions: usually none, but note:
Please keep dogs on leads.

Bothy is very small with a stone floor and stone benches -- unsuitable for groups of any size.

There is no fuel locally.

Bothy can be difficult to find.

Fire Risk Assessment:   Details   Summary

Maintenance Organiser: Denis Mollison,The Laigh House, Inveresk, Musselburgh EH21 7TD
(denis.mollison (at) gmail.com   0131 665 2055)

Area Organiser: David Moorat, 16 Capon Hill, Brampton, Cumbria, CA8 1QJ.

Further details:

Compiled by: Denis Mollison (contact details above)

Last updated: October 2013