The UK Institute of Informatics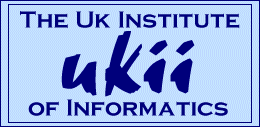 ---
It is the principal goal of the UK Institute of Informatics (UKII) to educate researchers in Informatics; this research field comprises:
The study of the structure, behaviour, and interactions of both natural and artificial computational systems. Informatics studies the representation, processing, and communication of information, in natural and artificial systems. It has computational, cognitive and social aspects. The central notion is the transformation of information - whether by computation or communication, whether by organisms or artifacts.
---
UKII is a member of the European Educational Framework EEF.
---
---
Contact Address
Postal Address:
School of Mathematical and Computer Sciences,
Heriot-Watt University,
Riccarton,
Edinburgh, EH14 4AS,
UNITED KINGDOM.

Telephone: +44 131 451 3868 (Prof. Fairouz Kamareddine)
Fax: +44 131 451 8179
URL: http://www.macs.hw.ac.uk/~fairouz/forest/ukii/
---
Tanja Kela, the creator of this Web site made the last modification 15 September 2000.
Alterations made after this date are created by Prof. Fairouz Kamareddine.

E-mail queries or comments to:
Prof. Fairouz Kamareddine (fairouz AT cedar-forest.org)