Hi! I would like to tell a little bit about the place, where I was born and I live now.
It's Akademgorodok,a part of Novosibirsk - greatest city in Siberia.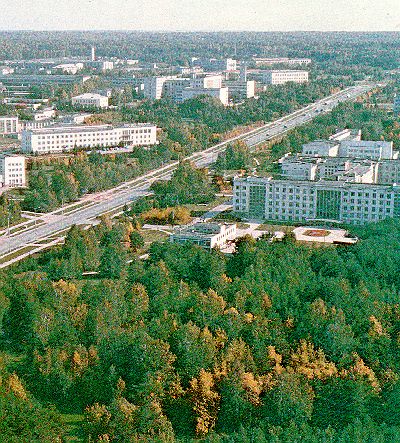 Academgorodok is a renowned scientific center. In this quaint, campus-like neighborhood, there are more than 40 scientific research institutes as well as Novosibirsk State University, famous for international faculty of world renown. The Russian IT industry is also based here; thus, this exact region is known as "Silicon Taiga". Academgorodok was founded in 1957. At that time it was the first complex scientific center in the Soviet Union. Since that time there has been an unique scientific environment and a huge intellectual potential concentrated here.
Generally, towns pride themselves on their size or their historical monuments. What is Akademgorodok proud of? It is not big, in fact, it is the smallest district of Novosibirsk; it has no historical monuments as yet - it is too young for that (1958). Its architecture is also nothing to write home about, most of its buildings are of standard design.
Yet the settlement has a style of its own, has its specific features and its pride. There used to be towns built near fortresses, near monasteries, near factories, ports and even town-museums. But Akademgorodok is the first town of science.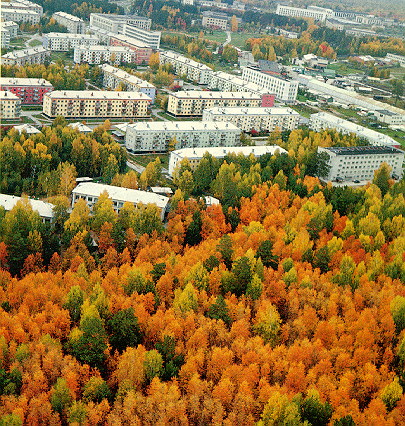 It has more specific feature. It is one of the few towns in the world build right in the middle of a forest. This Siberian town, extending on the shore of man-made sea, has preserved the pinewood and birch coppices with their profusion of squirrels and birds, has a golden beach and mountain slopes for skiing in winter.
Visitors to the town invariably remark how happily it combines conditions for work with conditions for rest. Up-to-date scientific installations coexist with white sail on the sea, symphonic music in the concert hall with the test of the peaceful water cannon designed by the Hydrodynamics Institute.
The closeness of the town to Novosibirsk, a large cultural centre, is an additional blessing. Actors of the best Siberian theatre often visit the town and the scientists see plays, operas , ballets and other performances, and stars on tour also rarely miss the town.
There are cinemas, clubs, shops and cafe like in every other town. The differences is that you can walk in age-old forest just a few steps away from your home.
Thus, Akademgorodok too has its "historical" sights.
Located within Akademgorodok is Novsibirsk State University (NSU), 35 research institutes, an agricultural academy, medical academy, apartment houses and cottages, and a variety of community amenities including stores, hotels, hospitals, restaurants and cafes, cinemas, clubs and libraries. The House of Scientists (Dom Uchonykh), a social center of Akademgorodok, hosts a library containing 100,000 volumes - Russian classics, modern literature and also many American, British, French, German, Polish books and magazines. The House of Scientists also includes a picture gallery, lecture halls and a fine concert hall. The performances given by
musical celebrities and theatrical stars in this hall are second to none. Novosibirsk state university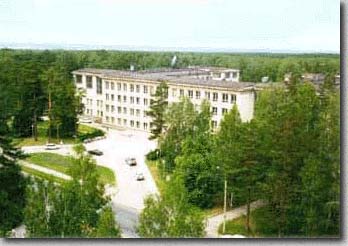 Novosibirsk State University is one of the top three Russian universities. The special qualities of the University are: exceptional student/ professor ratio, close links to the many research institutes of Akademgorodok and an active and constructive social life facilitated by many clubs, organizations and activities.
If you-ve never been in Akademgorodok, you certainly have to go there. I'm sure, you will enjoy it.