2nd International Summer School on Advances in Programming Languages
19th-22nd August, 2014
Heriot-Watt University, Edinburgh
Overview
The 2nd International Summer School on Advances in Programming Languages, hosted at Heriot-Watt University in Edinburgh by the Dependable Systems Group, offers four days of insightful lectures and lab sessions on an engaging blend of cutting-edge theoretical and practical techniques delivered by international experts. The topics include type systems and dependent types, novel programming models, and domain-specific languages, among others. The School is primarily intended for postgraduate research students and aims to foster international collaboration, and encourages a dialogue among early career researchers and renowned scientists.
The Summer School is supported by the Scottish Informatics and Computer Science Alliance, which allows us to provide 8 free spaces for participants from SICSA institutions. We are grateful to Codeplay for co-sponsoring the event.
Situated in the historical city of Edinburgh declared UNESCO World Heritage Site, the Summer School coincides with the Edinburgh International Festival, the associated Edinburgh Festival Fringe and the International Edinburgh Book Festival.
The website of the previous instance of the Summer School can be accessed here.
NEW: Information Booklet
NEW: Participants Details
Important Dates
Registration deadline: 6 June 2014
Confirmation of place: 10 June 2014
We are currently able to accept late registrations. Please contact the Organising Committee.
School: 19-22 August 2014
Topics/Speakers
All abstracts
here
.
Lecture and lab materials will be available
here
.
Programme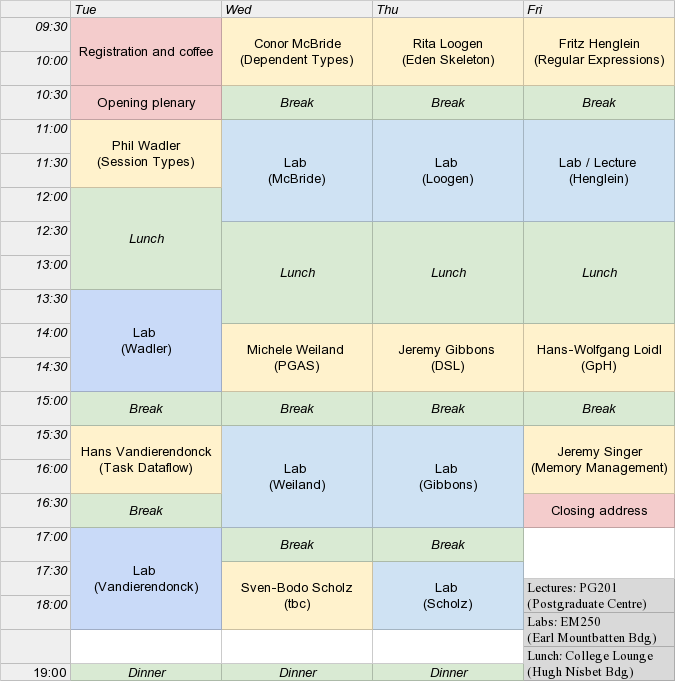 Registration
To register, please fill in the
online form
and send your motivation and a letter of support by your mentor (if you are a student) to
AiPL2014-register@macs.hw.ac.uk
.
Fee and Payment
£550 residential, includes four nights accommodation on campus with breakfast, lunch and dinner, plus coffee and session materials
£350 non-residential, includes lunch, coffee and session materials
£100 one-day ticket, includes lunch, coffee and session materials
SICSA students
Please state in your application letter whether you wish to be awarded one of the free places. As those are limited, we encourage you send your application as soon as possible. Those who do not receive a free place, are eligible to apply to SICSA directly for
funding to attend the School
.
Location
The School will take place at the Edinburgh Campus of
Heriot-Watt University
, Scotland, EH14 4AS. The main university "getting around" page has
maps and directions
to the campus (incl. bus, rail and other information).
All lectures will be in room PG201 (2nd floor), Postgraduate Centre (building 18 on map).
All labs will be in room EM250 (2nd floor), Earl Mountbatten Building (building 21 on map).
On-campus accommodation will be in Leonard Horner Hall.
Here is a labelled map of the main locations around the campus.
Contact
If you have any questions about the school, please contact the AiPL2014 Organising Committee:
AiPL2014-register@macs.hw.ac.uk
.