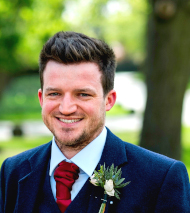 I'm an Assistant Professor and 1st Year Director of Studies in the Computer Science department at Heriot-Watt University.
Research
My research interests span Domain Specific Languages (my SPLV 2019 slides), parallel programming languages for HPC and System on Chip processors, dataflow programming languages, high level FPGA languages, and language/compiler/runtime system verification.
I am a co-investigator on two EPSRC projects: Serious Coding 2020-2023 – a game approach to security for the new code-citizens, and Border Patrol 2017-2022 – improving smart device security through type-aware systems design.
My publications are listed here, as well as on Google Scholar and DBLP.
PhD student supervision/co-supervision:
Cristian Sestito, visiting PhD student 2021-2022, University of Calabria, Italy, neural network compression for FPGAs.
Fraser Garrow, Heriot-Watt University, evolutionary algorithmic optimisation of neural networks, 2020-present, with Michael Lones.
Kirsty Duncan, Heriot-Watt University, verification of neural networks, 2017-present, with Katya Komendantskaya.
Blair Archibald, University of Glasgow, C++ algorithmic skeletons for scalable parallel tree search, 2015-2018, with Phil Trinder and Patrick Maier. thesis
If you are interested in a PhD in my research areas, please get in touch.
I'm a member of several research groups: Dependable Systems Group, Robotics Lab and Lab for AI Verification.
I am co-chair of the ACM Workshop on Real World Domain Specific Languages (RWDSL) and a PC member/review for JFP, TyDe, IEEE IPDPS, SBLP, IEEE Access, ICANN, IEEE TPDS.
Teaching
I teach or have taught:
Programming Languages (F28PL)
Distributed and Parallel Technologies (F20DP/F21DP)
Introduction to Data Structures and Algorithms (F28SG)
Hardware-Software Interface (F28HS)
Using GitLab to support Computer Science education:
Programming music with assembly code:
Short bio
2018 - present: Assistant Professor, School of Mathematical and Computer Sciences (MACS), Heriot-Watt University.
2021: Fellow of the Higher Education Academy.
2017 - 2018: Research Fellow (Border Patrol EPSRC project), Heriot-Watt University.
2016 - 2017: Research Fellow (The Integration and Interaction of Multiple Mathematical Reasoning Processes EPSRC Grant), Heriot-Watt University.
2016 - 2017: Research Fellow (Rathlin EPSRC project), Heriot-Watt University.
2016 - 2016: Visiting scholar, EPFL, Switzerland.
2013 - 2016: Research Associate (Rathlin EPSRC project), Heriot-Watt University.
2013 - 2013: Senior Haskell Software Engineer, Parallel Scientific, American startup.
2010 - 2013: Research Associate (SerenA EPSRC project), Heriot-Watt University.
2010 - 2013: PhD student, Computer Science (thesis and details), Heriot-Watt University.
2004 - 2010: MEng student, Software Engineering, Heriot-Watt University.